By German Lopez@germanrlopezgerman.lopez@vox.com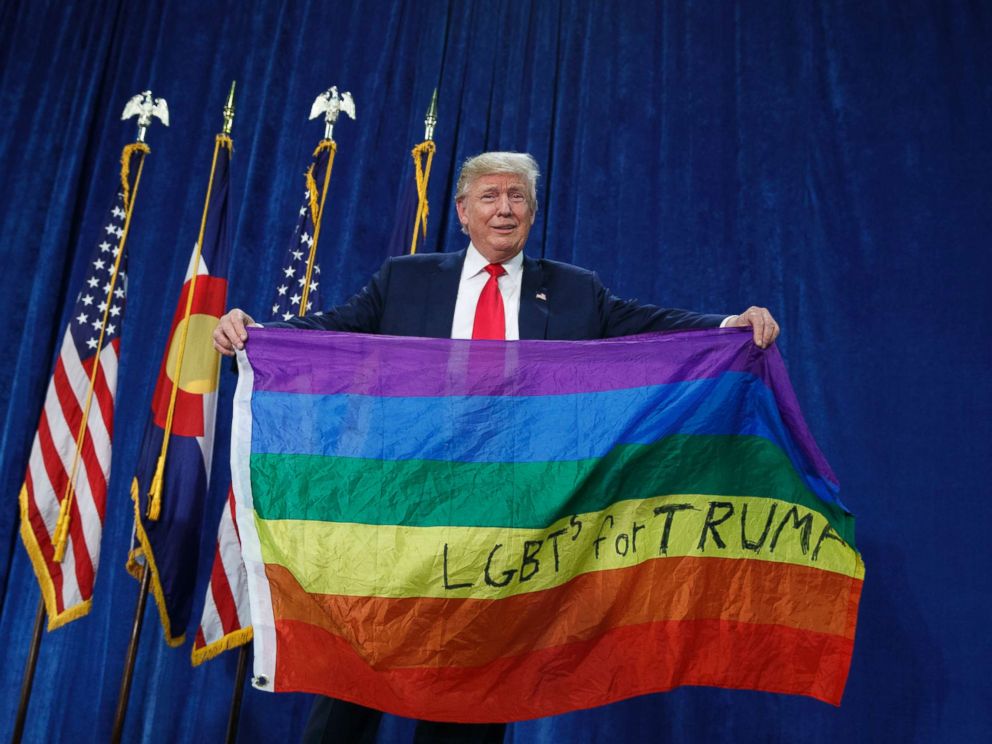 President Donald Trump said he was a different kind of Republican. As someone from liberal New York, he signaled that he would be the person to finally move his political party on LGBTQ issues. He held up a Pride flag at a campaign event, and he said the key acronym ("L, G, B, T … Q") at the 2016 Republican convention.
But Trump's administration, based on its first year, has been anything but LGBTQ-friendly.
"He campaigned saying that he would be a good friend to LGBT people," James Esseks, director of the ACLU's LGBT and HIV Project, told me. "Actions speak far louder than words. And what he's done has been a wreck."
In its first year, the Trump administration has tried to reinstate a ban on transgender people in the military. It has nominated multiple people to the courts and elsewhere who have anti-LGBTQ records. It has directed its army of federal lawyers to take the anti-LGBTQ side in court cases. And it has done some extraordinarily petty things, like refusing to recognize Pride Month.
Together, it all marks a significant shift from President Barack Obama's administration. In the runup to his 2012 reelection, Obama became the first sitting president to support same-sex marriage. His administration interpreted civil rights law to protect trans people where other existing laws failed to. It reversed "don't ask, don't tell" — which banned gay people from serving openly in the military — and began to reverse a similar ban on open trans service members. In court cases in which it chimed in, the Obama administration was a reliable ally of LGBTQ rights causes. And it took on smaller yet still symbolic causes, such as designating the Stonewall Inn as a national monument.
The Trump administration, based on a review of what it's done so far, has essentially worked to undo all of this progress. It can't undo all of it — same-sex marriage, for example, is the law of the land and looks to remain that way.
But the Trump administration is certainly trying. From Trump's nominations for courts that will decide the expanse of LGBTQ rights across the country to his administration dictating who has basic civil right protections, it's an agenda that could seriously harm LGBTQ people in the years and perhaps decades to come.
Trump's anti-LGBTQ record
Many of the anti-LGBTQ actions the Trump administration took during its first year got very little attention in the mainstream press, typically receiving a couple of days of coverage at most. But as I reviewed the administration's record, I was surprised by its breadth and scope. Altogether, it represents a distinctly anti-LGBTQ agenda.
Trump "doesn't talk a lot about LGBTQ people," Rebecca Isaacs, executive director of the LGBTQ rights group Equality Federation, told me. "But he's done so many things that are as anti-LGBTQ as you could possibly be." She added that they are things that might not seem "as clear as being anti–marriage equality," but ultimately are anti-LGBTQ.
Here are some of the major anti-LGBTQ actions that Trump took during his first year in office:
He tried to reinstate a ban on trans people joining and openly serving in the military. The Obama administration in 2016 announced plans to reverse the ban in 2017. But Trump, in a series of tweets last July, announced he would bring it back, arguing that trans-related health care is expensive. (Research from the RAND Corporationindicates that it would make up "a 0.04- to 0.13-percent increase in active-component health care expenditures.") So far, Trump's ban has been stymied by the courts — and trans people are now allowed to openly enlist and serve.
Trump appointed Neil Gorsuch to the Supreme Court to replace the consistently anti-LGBTQ Antonin Scalia. Although Gorsuch had a vague record on LGBTQ rights when he was nominated, civil rights advocates argued that, based on some of his past writings on marriage equality and religious issues, he could be a big opponent for LGBTQ equality. In just a few months on the bench, Gorsuch has proven advocates right; for one, he dissented against a Supreme Court ruling that requires states to list same-sex parents on birth certificates.
Nearly one-third of Trump's judicial nominees have anti-LGBTQ records, according to Lambda Legal. These nominees, if accepted by the Senate, may rule on major LGBTQ issues over the next few years, from anti-discrimination protections for LGBTQ workers to trans access to bathrooms.
The Trump administration rescinded a nonbinding Obama-era guidance that told K-12 schools that receive federal funding that trans students are protected under federal civil rights law and, therefore, schools should respect trans students' rights, including their right to use bathrooms and locker rooms that align with their gender identity. The Trump administration took back the guidance altogether, arguing trans students aren't protected under federal civil rights law.
Trump's Justice Department also rescinded another Obama-era memo that said trans workers are protected under civil rights law. This has enabled the federal government, including its army of attorneys, to now argue in court that anti-trans discrimination isn't illegal under federal law. The courts are ultimately independent of the Trump administration, but the federal government can play a big role in legal arguments by throwing its people and resources behind a case.
In a major Supreme Court case, Masterpiece Cakeshop Ltd. v. Colorado Civil Rights Division, the Trump administration argued in court in favor of Masterpiece Cakeshop, a bakery that's claiming First Amendment rights to discriminate against same-sex couples. The case could have potentially enormous repercussions — opening a big loophole in anti-discrimination laws, particularly those that protect LGBTQ people, by letting business owners cite religious or moral justifications to discriminate.
Trump's Justice Department argued that anti-gay discrimination is legal, filing a friend-of-the-court brief claiming that the federal Civil Rights Act doesn't protect gay and bisexual workers. The lawsuit in this case was filed by Donald Zarda, a skydiving instructor who says an employer, Altitude Express, fired him due to his sexual orientation. The Justice Department in effect argued that this was legal under federal law.
The Justice Department has similarly taken anti-LGBTQ steps in other cases across the country, including one about North Carolina's anti-trans bathroom law and one about discrimination against trans people in health care. "We've gone from a position where LGBT people are protected to one where we're not," Esseks of the ACLU said.
The Trump administration sent out a "religious liberty" guidance to federal agencies, essentially asking them to respect "religious-liberty protections" in all of the federal government's work. It's unclear what kind of impact the guidance will have, but LGBTQ organizations worry that it will be used to justify discrimination against LGBTQ people within the federal government and its work.
The Department of Health and Human Services enacted a new regulation and created an agency, the Division of Conscience and Religious Freedom, that will purportedly work to ensure health care providers' religious liberties aren't violated. LGBTQ groups argue this agency will effectively give doctors, nurses, and other medical staff cover to discriminate against LGBTQ people, because providers will now get protection from the federal government if they cite religious or moral objections to refuse service to LGBTQ patients.
Without explanation, Trump fired all the members of the Presidential Advisory Council on HIV/AIDS. "It's outstanding," Isaacs said. "HIV isn't only in the LGBTQ community, but it largely is."
Trump failed to recognize LGBTQ Pride Month.
Trump did keep existing executive orders that prohibit the federal government and federal contractors from discriminating against employees based on sexual orientation and gender identity. But otherwise, his first year in office was marked by anti-LGBTQ action after anti-LGBTQ action.
Mara Keisling, executive director of the National Center for Transgender Equality, was frank in her assessment of Trump's anti-LGBTQ policies: "I don't think Donald Trump likes us." She argued that while the Trump administration has gone after LGBTQ people, it seems to have targeted trans people in particular — such as with the military ban.
But Keisling also took a broader view of Trump's policies in general, adding, "The way he is undermining American institutions, he is a direct threat to trans people just because he is a direct threat to everyone. All the ways he's bad for America, he's also bad for trans people." As an example, the undocumented immigrants who now face a greater threat of deportation under Trump include hundreds of thousands of LGBTQ people as well.
Trump has broken his promise to LGBTQ people
On the campaign trail, Trump said he would be different — the first Republican president to embrace LGBTQ people. He posed with the Pride flag and acknowledged "L, G, B, T … Q" people. He initially defended the right of Caitlyn Jenner, a transgender woman, to use the bathroom that aligns with her gender identity. He tweeted, in reference to a mass shooting at a gay club in Orlando, Florida, "Thank you to the LGBT community! I will fight for you while Hillary brings in more people that will threaten your freedoms and beliefs."
As president, Trump has acted more or less how you would expect a typical anti-LGBTQ Republican to act. Maybe that reflects his own opinions. Maybe it reflects the views of the people he's surrounded himself with in his administration, including Vice President Mike Pence and Attorney General Jeff Sessions, both of whom have very long histories of anti-LGBTQ causes.
Whatever the cause, the result is Trump's presidency and administration have now adopted a broad anti-LGBTQ agenda — one that has gone after LGBTQ workers, troops, and even patients. And more than showing Trump's dishonesty, this agenda potentially threatens the rights of millions of LGBTQ Americans.
"People debate, 'Does he personally like or dislike LGBT people?' That's irrelevant," Esseks argued. "He has put in place people who have firmly anti-LGBT agendas, and he's not just enabled but endorsed those agendas himself. He's been a train wreck for LGBT people nationwide."
Please follow and like us: